16
« on: March 11, 2011, 01:50:41 AM »
Here's a picture of my first "Paying" motorcycle seat...only my second total, the first one I did was for me. I'm aspiring to Saddleman's French seams!
Course now that he's got his dual needle fancy machine, that'll be hard to do. Let me know what you think.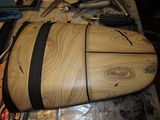 This is off of a sport bike that a guy at work painted. They wanted a bike with wood look. The bike looked pretty good, but the paint on the seat didn't last long.
The before and after.